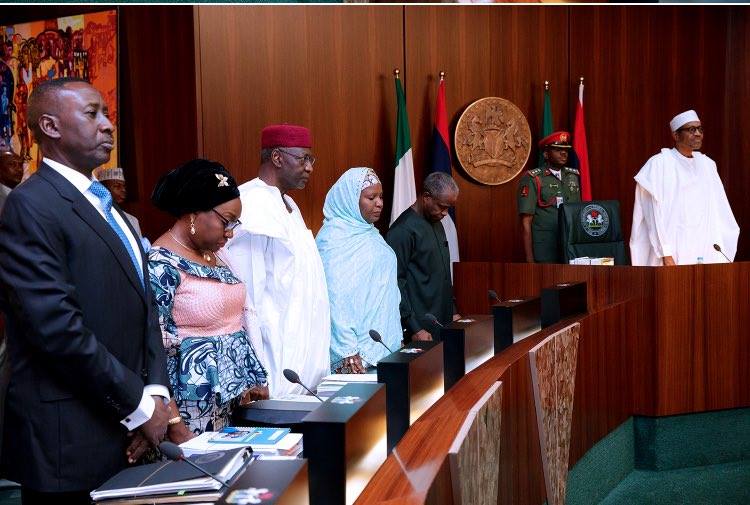 President Buhari Presided Over FEC Meeting
President Muhammadu Buhari presided over the FEC meeting held today at the Presidential Villa, Abuja. Various key issues were addressed in the meeting. Summary of key issues addressed include:
The no-work no-pay law stated in the Trade Dispute Act of the Federation will now be implemented as addressed by the Minister of Labour, Chris Ngige.

Union leaders' tenure was equally addressed and it was decided that although the term duration will not be predetermined by the Constitution, it will no longer be open-ended but information on duration of the leader's term must be stated in lawful written agreement by the association.

Activities of deep-water divers will now be regulated for safety reasons.

The Minister of Health spoke on public health issues in the country, explaining that lab tests are being carried out to truly confirm the existence of monkey-pox virus in the country.
Vice President Yemi Osinbajo Receives Advocates Group for Girl Child Day
Vice President Yemi Osinbajo celebrated the International Day of the Girl-Child with a delegation of girl child rights advocates from various schools in Abuja at the State House, Abuja.
The delegation was led by officials from the Universal Basic Education Commission (UBEC), Save the Children International and the UNFPA.
The Vice-president also used the occasion to notify the public on the Federal Government's stand against all forms of abduction and child trafficking. With reference to the return of the Chibok girls, he said, "We want to be able to challenge men and women all over the world about this sort of behaviour, and this is one of the reasons why we are advocating that this kind of conduct must be met with the greatest possible objection and force.
"It is very important for us that those girls are returned; anyone who has a friend or child or anyone among the girls recognises that girls are more vulnerable than men, especially when they have been abducted by men stronger and older than themselves, and held in captivity for so long."
"We shouldn't accept it. We should condemn it for the cowardly and wrongful act that it is, and do our best to give succour to the ladies who have suffered this particular injustice."