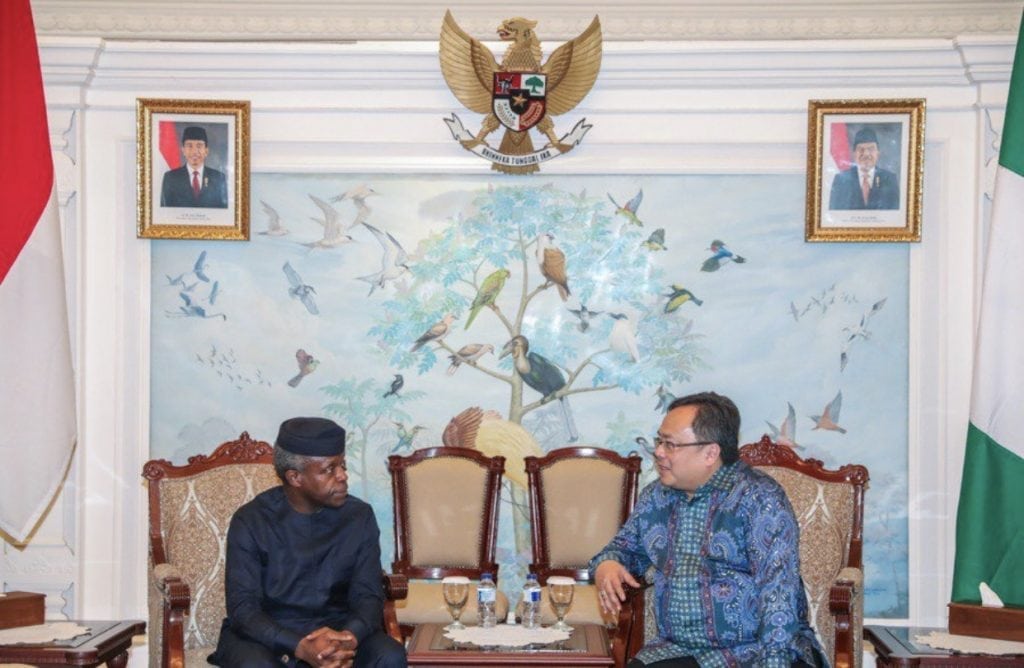 President Buhari Holds Bilateral Meetings in Istanbul, Turkey
President Muhammadu Buhari met with the President of Guinea, Alpha Condo and Prime Minister of Pakistan, Shahid Khaqan Abbasi at Istanbul, Turkey on October 21, 2017.
At a meeting with the President of Guinea, President Alpha Condo of Guinea commended President Buhari on his outstanding leadership both in Nigeria and Africa abroad, notably for speaking up on matters regarding the African continent.
President Buhari later met with the Pakistani Prime Minister, Shahid Khaqan Abbasi. At the meeting, President Buhari encouraged the PM to utilize the budding investment climate in Nigeria, adding that he will strengthen economic relations between Nigeria and Pakistan President Buhari by restoring the Nigeria-Pakistan Joint Commission.
The President returned to Abuja from Turkey on October 22, 2017
Vice President Speaks at the EITI Conference in Indonesia
Vice President Yemi Osinbajo who travelled on October 23, 2017 to Jakarta, Indonesia for the Extractive Industries Transparency Initiative (EITI) Beneficial Ownership Conference holding from 23rd to 24th October 2017 gave his keynote address at the event today.
The vice president spoke on issues of illegal financial flows between anonymous companies and how they could create an avenue for criminal activities.
He said, "we know that anonymous companies are not always illegal or are not always designed to harm. But we also know that secrecy provides a convenient cover for the criminal and the corrupt. And we are not just operating from the theoretical or hypothetical standpoint.''
"Our lived experience has shown clearly that anonymous corporate ownership could serve as vehicles for masking conflicts of interest, corruption, tax evasion, money laundering, and even terrorism financing.''
He spoke on the importance of legitimate companies adding that, "legitimate businesses benefit not only from the better business climate that results when governments better serve their citizens but also from knowing who they are doing businesses with or competing against, they benefit from a level playing field, lower costs of doing business, and from reduced reputational risks."
Full statement of the Address is HERE
President Buhari Orders Sack of Former PTF Chairman on Pension Reforms
President Buhari has ordered that former Chairman of Presidential Task Force on Pension Reforms, Abdulrasheed Maina, who was reinstated into the Civil Service, be dismissed.
In 2013, Abdulrasheed Maina was accused of a pension scheme fraud worth over N100 billion, he later absconded from the country to avoid persecution for which he was dismissed from the civil service. He was recently re-absorbed into the Civil Service under the Ministry of Interior and promoted.
The president is therefore seeking full investigation into the issue regarding his recall and has asked that full report on the situation be submitted to the Chief of Staff, Mallam Abba Kyari before end of work today, October 23, 2017.