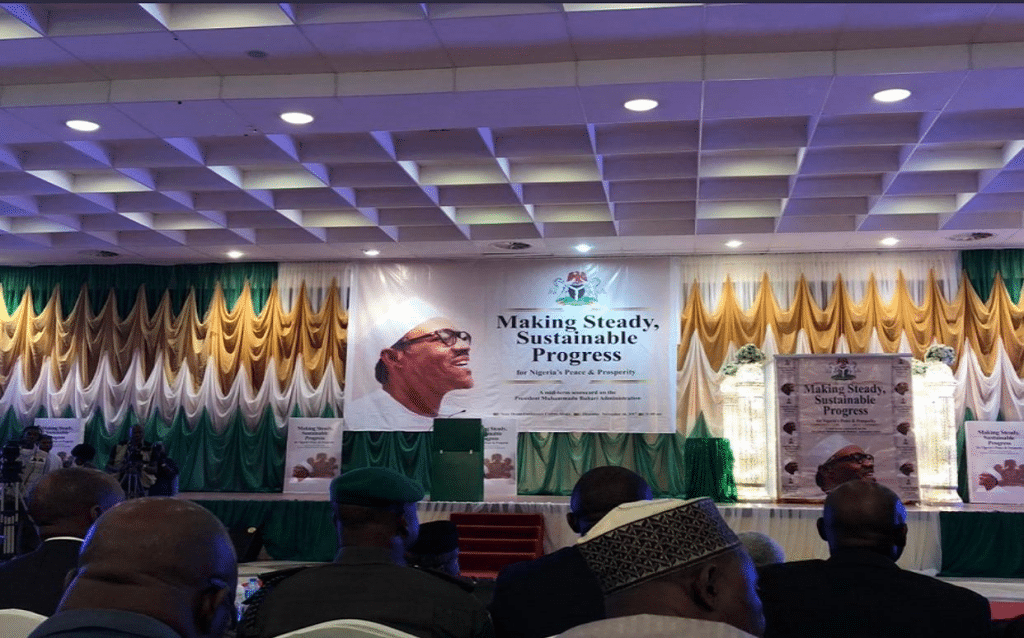 President Buhari and VP Osinbajo Attend Book Launch Event
The President and Vice President were present at the official launch of the book "Making Steady, Sustainable Progress for Nigeria's Peace and Prosperity" which held at the State House Conference Centre in Abuja.
Important dignitaries at the event include Secretary to the Government of the Federation, Boss Mustapha; APC National Leader, Bola Ahmed Tinubu, APC National Chairman, Chief John Odigie-Oyegun; Minister of Information and Culture, Lai Mohammed; and the former Minister of Information and Culture, Prince Tony Momoh.
Representatives of Dangote Group, Senate President, Speaker of the House of Assembly, Minister of Transportation and Governor of Zamfara state, were also present.
The VP, in his address, commended the President for his honesty, prudence and integrity, adding that the President managed to overturn a situation of economic downturn in the country caused from high level of corruption over the years.
The President gave the final address in which he expressed gratitude to the media support team for recording the achievements of the administration into a publication for the public to see.
While offering thanks to Nigerians for their prayers for his health during his medical trip, he expressed commitment to fulfilling the interests of Nigerians.
He added that Nigerians have borne the huge brunt of economic downturn and are now at a recovery stage. In his words, "We are coming out of recession and government efforts are targeted in easing economic hardships, with small jobs, social security platforms for vulnerable families and unemployed, and infrastructural programs."