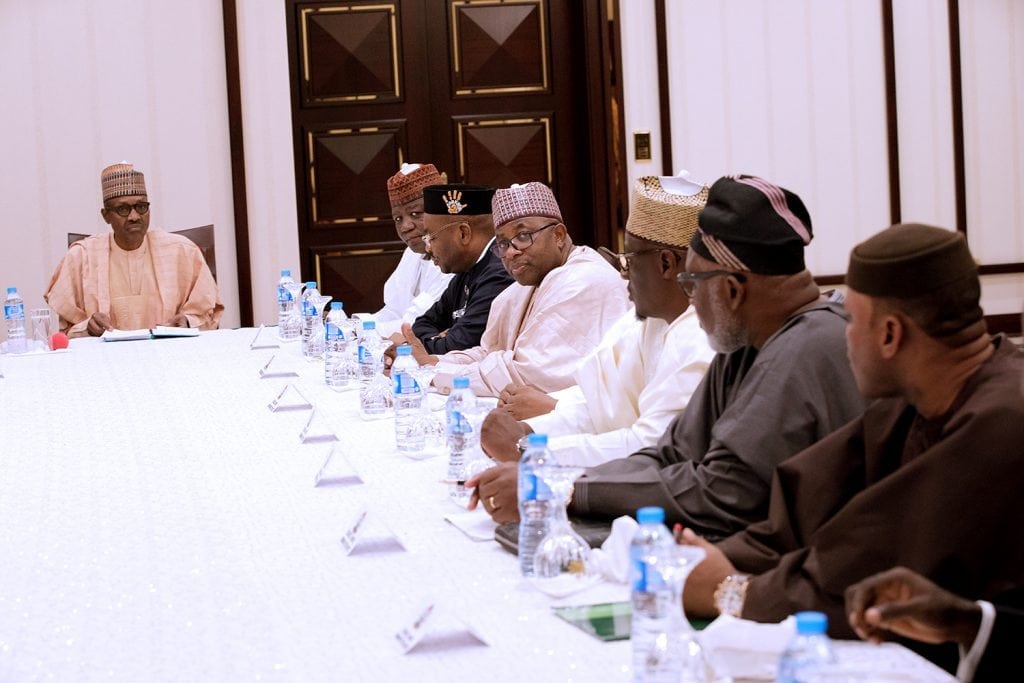 President Buhari Meets with Governors at State House, Abuja
President Muhammadu Buhari held a meeting with a delegation of Governors led by the Chairman of the Northern Governors' Forum at the State House in Abuja today.
Governors in attendance were from six geo-political zones in the country and they include:
Chairman of the Northern Governors' Forum and Zamfara State Governor, Abdulaziz Yari representing North West

Akwa Ibom State Governor, Emmanuel Udom representing the South South

Bauchi State Governor, Mohammed Abdullahi Abubakar representing the North East

Kwara State Governor, Abdulfatai Ahmed representing North Central

Ondo State Governor, Rotimi Akeredolu representing the South West.

The Deputy Governor of Ebonyi State, Eric Kelechi Igwe, representing the South East

Director-General of NGF, Asashana Okauru.
President Buhari To Attend the D-8 Summit in Istanbul, Turkey
The president is set to depart to Istanbul, Turkey on Wednesday, October 20, 2017 for the Ninth Summit of the Developing 8 (D-8).
The president will initially visit the capital city of Ankara to officially meet with the President of Turkey, Recep Tayyip Erdogan and have series of discussions on security, education, migration and other developmental issues.
The president will also meet with other leaders representing D8 member countries and will be accompanied on the trip by various top government officials, notably the Comptroller-General of the Nigerian Customs Service, Hameed Ali.
Full statement on the press release is HERE
President Buhari Calls For An End To Terror in Plateau State
The president has condemned the killings of more than 20 people by herdsmen in Plateau State and has ordered the police force and military personnel to take appropriate actions against such violence.
A statement issued by Senior Special Adviser to the President on Media and Publicity Garba Shehu notifies the public that President Buhari is devoted to Nigeria's unity and seeks out peace in all states.
The president also sympathizes with the people of Plateau State for their loss and assures  for all lost loved ones and their safety from all forms of violence.