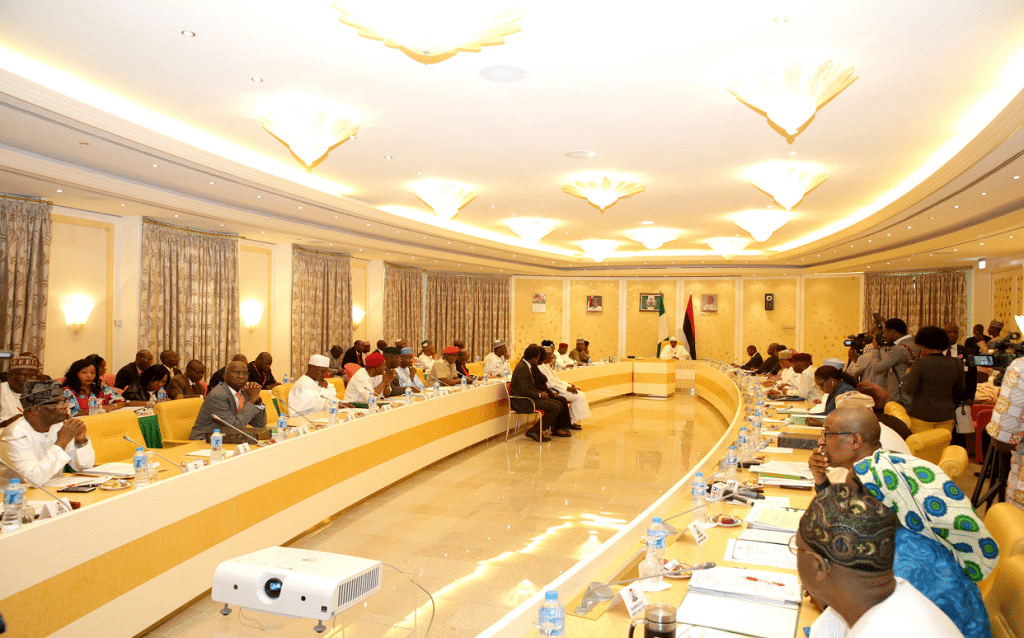 President Buhari Inaugurates Audit Committee on Recovery of Stolen Assets
The President presided over FEC meeting today at the State House in Abuja.
At the meeting, he inaugurated the Audit committee on the Recovery and Management of Stolen Assets Within and Outside Nigeria.
In his address to members at the FEC meeting, he stated that the committee is set up in line with the administration's anti-corruption objective to track and recover all looted funds and misappropriated assets.
He added that the objective is being fulfilled based on the records of looting funds and assets which have been investigated and recovered as well as the persecution of culprits involved; however, there are some loop holes which the committee is set up to cover.
In his words, he said, "It has become obvious that fundamental gaps still exist in ensuring that the recovered assets are accounted for, and managed in an accurate, transparent and logical manner. It was in realization of this and due to our determination to ensure that in pursuing the anti-graft war, we do not create new room for dishonourable conduct by any individual or agency that I directed, earlier in the year, that all agencies should send in detailed reports of all their recovered assets as at March, 2017.
The decision to inaugurate this Audit Committee on the Recovery and Management of Stolen Assets within and Outside Nigeria today is therefore the next step in ensuring that all returns filed by the various agencies are accurate and consistent with actual recoveries made."
Full President's Speech HERE
Members at the meeting later observed a moment of silence for former Vice President, Dr. Alex Ekwueme who passed away on November 19, 2017.
President Buhari Orders Military to Crack Down on Violence
The President has asked the military to restore calm to various rural communities in Zamfara state which have recently been attacked by bandits.
Adding to the order, he approved the Minister of Defence's requests to station a full battalion of Special Forces in Zamfara state, and granted permission for the 8 Division of the Nigerian Army in Sokoto in the new Order of Battle (OBAT) to operate under the supervision of the 1 Brigade of the Nigerian Army which are to relocate to Gusau from Sokoto.
The President has given his approval to set up an intelligence fusion centre in Maiduguri, Borno state which will focus on gathering intelligence needed to terminate Boko Haram activities and their recruitment of mostly underaged girls in the North-east.
VP Osinbajo Commissions Projects
The Vice President visited Kwara today to attend the state's MSMEs clinic and commission various projects.
The first project he commisioned was the Vocational and Entrepreneurship College-IVTEC in Ajase-Ipo area of Kwara state.
He later attended the MSMEs clinic in Ilorin where he launched the One Stop Shop/SIP's GEEP-micro credit scheme which has offered over 300g soft loans  to various traders in the city.
According to the Vice President, the One Stop Shop will bridge communication gaps between MSMEs and government regulatory agencies while the SIPS scheme will provide visible benefits as compared to credit schemes