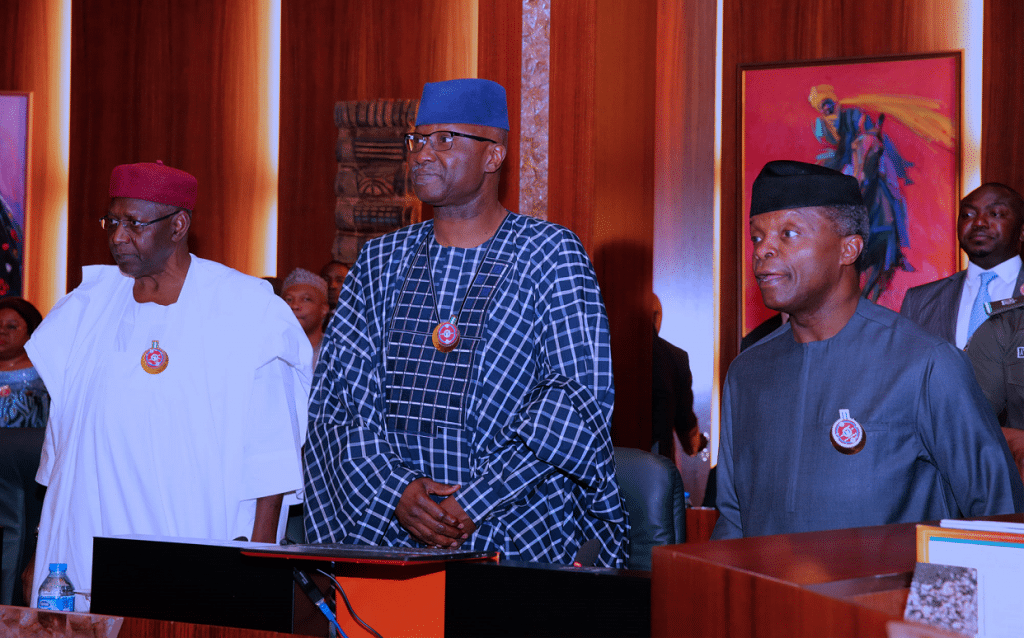 VP Osinbajo Presides Over FEC Meeting
The Vice President Presided over FEC Meeting today in Abuja.
Members present include the Chief of Staff, Malam Abba Kyari; Secretary-General of the Federation, Mr Boss Mustapha; Minister of Justice and Attorney of the Federation, Abubakar Malami; Minister of Agriculture, Chief Audu Ogbeh; Minister of State Agriculture, Heineken Lokpobir; Minister of Budget and National Planning, Sen Udoma Udo Udoma; Minister of State Budget and National Planning, Aisha Abubakar and Minister of Communications, Adebayo Shittu.
President Buhari Condemns Libyan Slave-Trade
The President has condemned the slave trade activities in Libya as inhumane and unacceptable.
According to him, "The situation in Libya, of people being sold into slavery, is appalling and unacceptable. We will do everything to protect our citizens wherever they might be"
He added that the Federal Government has begun returning Nigerians stranded in the city, back into the country.
Adding to his statement on the situation, a committee has been set up under the leadership of the Vice President to contact necessary agencies here and abroad and begin appropriate measures to bring them home.
President Buhari Attends EU-AU Summit
The President was at the opening ceremony of the 5th European Union/African Union Summit in Abidjan, Cote d'Ivoire.
He initially met with the President of Cote d'Ivoire, Alassane Outtara for a luncheon, then later had a bilateral meeting with the Cote d'Ivoire President on the sidelines of the Summit.
He equally had bilateral meetings with other heads of states on the sidelines of the Summit. They were, Angela Merkel, Chancellor of Germany; Fatoumatta Tambajang, Vice President of Gambia and Nana Akufo-Addo, President of Ghana.