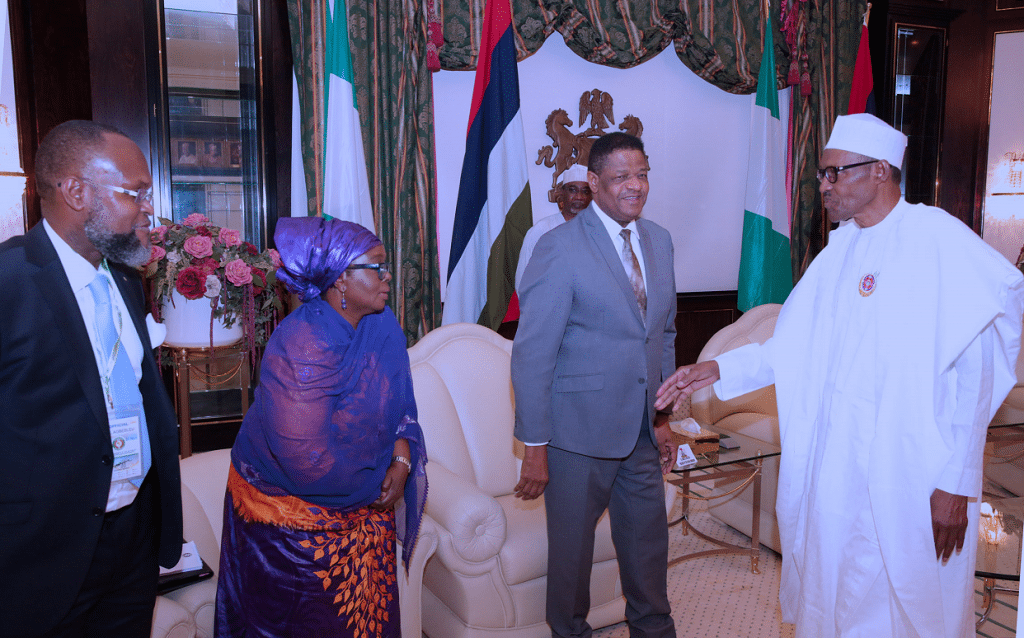 President Buhari Meets with Delegates of the ECOWAS and AU
The President received delegates from ECOWAS and AU Commission today  at the Presidential Villa, Abuja.
They included the AU Chairperson,  H.E. Mousa Faki; President of the ECOWAS Commission, H.E Marcel A. De Souza; the AU Advisor for Peace, Security and Governance, Ambassador Hadiza Mustapha; the ECOWAS Commissioner for Peace and Security, Hajiya Halima Ahmed and Ambassador Agbebleo Abel.
The Minister of State Foreign Affairs, Khadija Bukar Abba Ibrahim, Chief of Staff, Mallam Abba Kyari and other officials were present to receive the delegates.
The President urged countries in the Sub-Saharan region to maintain positive relationships and be accountable to each other.
He commended ECOWAS for seeking Nigeria's accountability in that regard when they sought to check the accounts and activities of the EFCC. In his words, "Thanks for being firm, and for insisting on transparency and accountability at the ECOWAS headquarters,"
The President further expressed his commitments to fulfilling obligations of the ECOWAS and AU as the country prepares to host the 52nd Ordinary Session of the ECOWAS Authority of Heads of State and Government on Saturday, December 16, 2017, in Abuja.