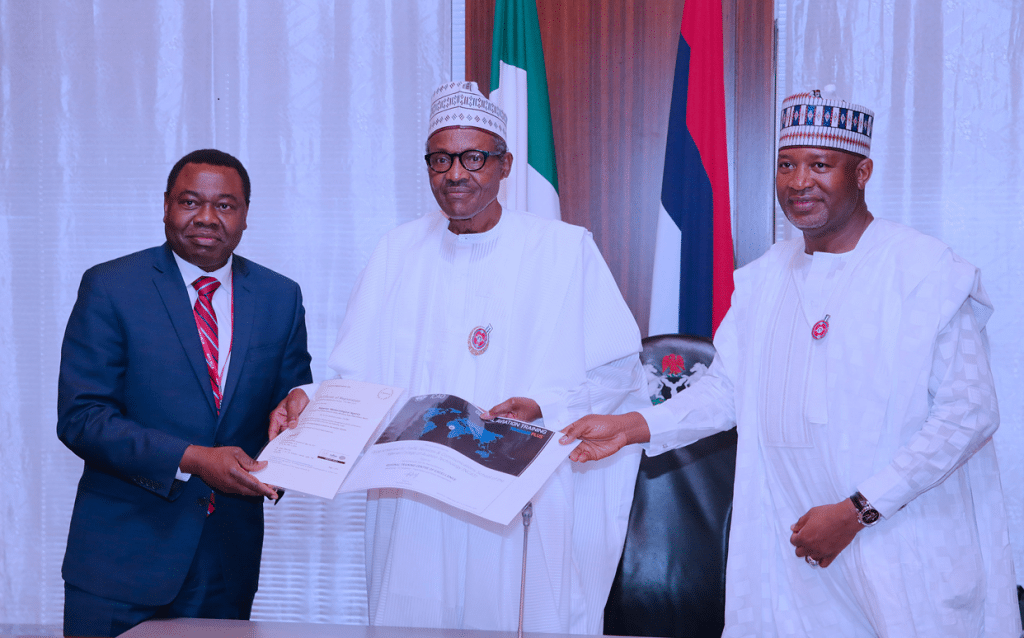 President Buhari Meets with Delegates from ICAO and AfDB
The President met with delegates from the International Civil Aviation Organisation (ICAO) and African Development Bank (AFDB) at the State House in Abuja.
They were led by the President of the Council International Civil Aviation Organisation (ICAO), Olumuyiwa Benard Aliu; and Vice President of African Development Bank (AfDB), Mr Pierre Guislain.
Other members of the delegation include Minister of State Aviation, Sen Hadi Sirika; Secretary-General of the African Civil Aviation Commission, Ms. Iyabo O. Sosina; Director-General, Nigerian Civil Aviation Authority, Capt. Muhtar S. Usman; Permanent secretary, Ministry of Transportation, Alh Sabi'u Zakari;  CBN Governor, Mr. Godwin Emefiele; Minister of Industry, Trade and Investment, Mr. Okechukwu Enelamah; and Chief of Staff Mallam Abba Kyari.
At the meeting, the President was presented certifications by the President of ICAO which show Abuja and Lagos airports meet ICAO standards. He went on to express his commitment towards boosting safe air travel and providing adequate infrastructure for air services.
He spoke on the issue of Nigeria having a national carrier in which he noted his support for having one adding that it is essential economically and Nigeria has a significant number of excellent pilots and engineers; he however added that Nigerians should remain cautious and remember how the last one went defunct.
The President was commended for making major strides in the Nigerian aviation sector, notably through the runway reconstruction at the Abuja airport, and was informed by the Minister of State for Aviation, Hadi Sirika, of the International World Aviation Forum which will begin tomorrow in Abuja for the first time.
President Buhari Opens All Judges' Conference
The President oepned the 2017 Bi-annual All Nigeria Judges' Conference at the National Judicial Institute, today in Abuja.
The theme of the conference was "Strengthening Judicial Integrity and the Rule of Law"
The President spoke on the public's expectation of the three arms of government, how they have lagged behind over the years and the consequences of such.
He added that allocation to the Judiciary was raised from 70 billion naira to 100 billion naira in 2017 to provide necessary skills and technology to assist the Judiciary; same has been done in the 2018 budget.
Major dignitaries at the conference include Chief Justice of Nigeria, Hon Justice Walter Onoghen; Retired Chief Justice of Nigeria, Hon Justice Alfa Belgore; Retired Former Chief Justice of Nigeria, Idris Kutige; Retired Chief Justice of Nigeria, Hon Justice Mahmud Mohammed and others.
Full President's speech HERE
VP Osinbajo Commissions Health Centre in Ibadan
The Vice President attended the 60th anniversary of the University College Hospital in Ibadan.
Other attendees include Governor of Oyo state, Abiola Ajimobi; Governor of Ondo state, Rotimi Akeredolu; Oba of Lagos and others
He equally commissioned the Adebuu Geriatic Centre.