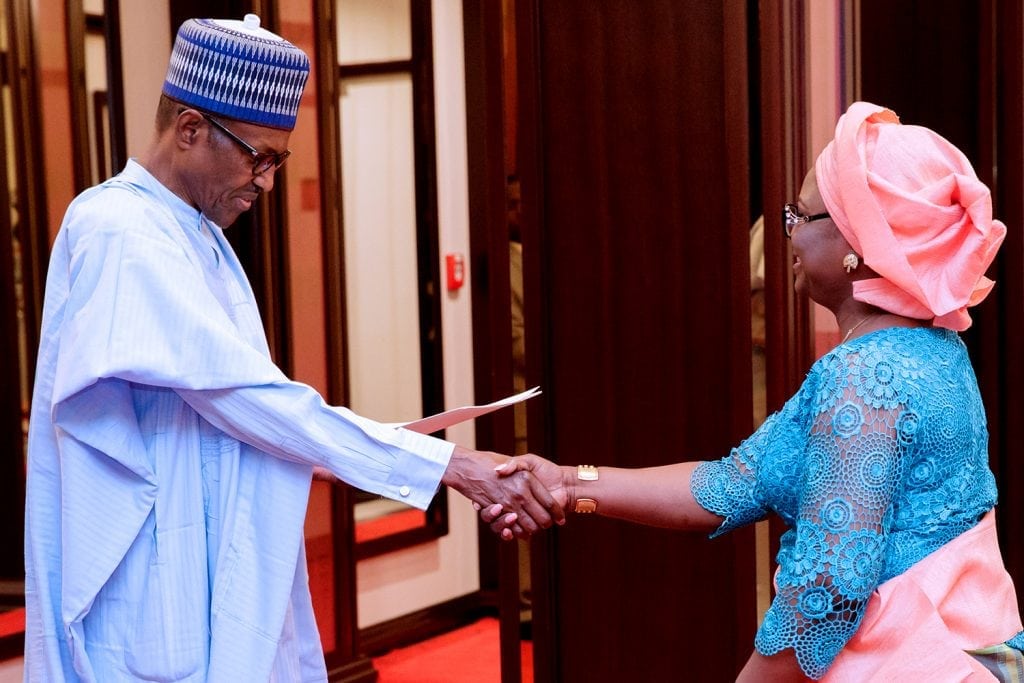 President Buhari Receives Letters of Credence from Ambassadors-Designate
President Muhammadu Buhari received letters of Credence from three Ambassadors-Designate at the Presidential Villa today.
The Ambassadors-Designate were from Benin Republic, Egypt and Mexico respectively.
They include Her Excellency, Mrs. Marcelline Paulette Adjovi Yekpe, Ambassador of Benin Republic to Nigeria, H.E. Mr Asteem Muhammed Hanafi Mahmud Elseify, Ambassador of Arab Republic of Egypt to Nigeria and His Excellency, Mr Alejandro Garcia Moreno-Elizando, Ambassador of Mexico to Nigeria.
Vice-president Yemi Osinbajo Flags Off the Bonny-Bodo Road Project
The Vice-president, Yemi Osinbajo was at Rivers state today to felicitate with the residents and give an address marking the flag-off of the Bonny-Bodo road/bridge project set to provide a road link between the Island of Bonny and the Mainland of Bodo.
He mentioned that the Buhari-administration, which promised to rebuild and restore the Niger-Delta is now fulfilling its promise to the people.
He also expressed appreciation to NLNG for their efforts in funding the project and encouraged other companies and corporations to be motivated in such regard.
Full link of the Vice President's Address: https://statehouse.gov.ng/news/speech-keynote-address-by-vice-president-yemi-osinbajo-at-the-financial-times-africa-summit-held-in-london/
President Muhammadu Buhari re-appoints Mr Uche Orji as NSIA Director
President Buhari has reappointed Mr Uche Orji as Managing Director of the Nigerian Sovereign Investment Authority (NSIA).
The President noted that Mr Orji has exhibited sound leadership and as a result, the NSIA's assets are now worth over two billion dollars. Due to his outstanding performance in his first term, He is therefore endorsing the renewal of Mr Orji's appointment which is to last for an additional five years.
Ministry of Agriculture Hold Press Briefing Ahead of World Food Day
The Ministry of Agriculture and Rural Development held a press conference ahead of World Food Day which is coming up on October 16.
The press conference, which was tagged #WorldFoodDay2017, was held in conjunction with Food and Agriculture Organization (FAO) today at FMARD Headquarters, Abuja.
It was headed by the Minister of Agriculture, Chief Audu Ogbeh; Minister of State, Dr. Heineken Lokpobiri and Permanent Secretary, Dr. Bukar Hassan.