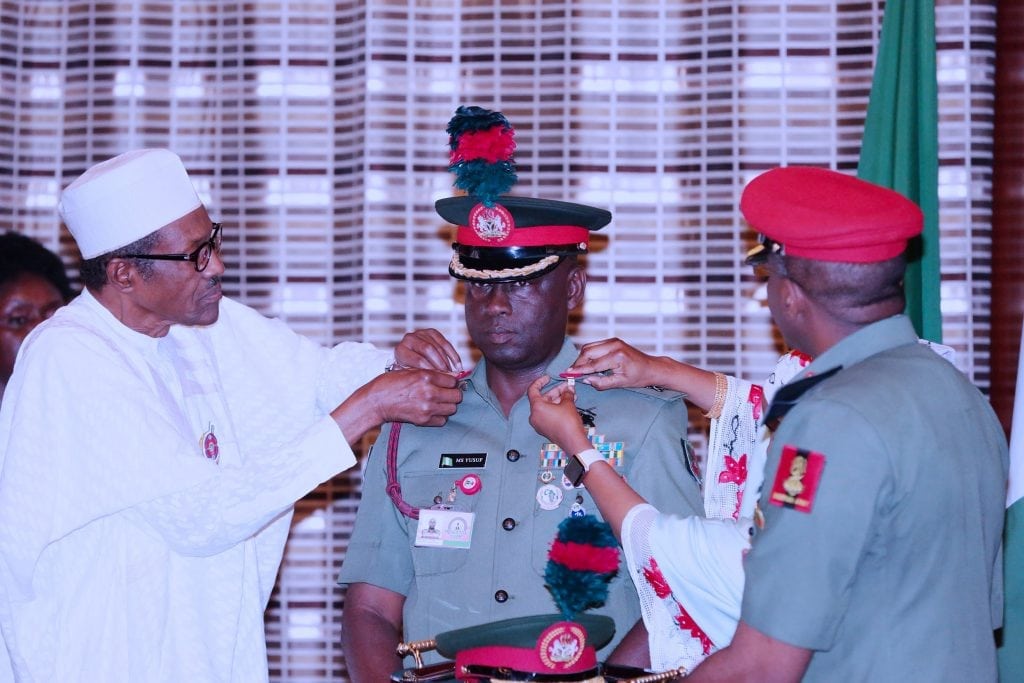 President Buhari Set To Visit Kano
The President is set to arrive Kano State on a 2-day visit from 6-7 December, 2017.
President Buhari Decorates Guards' Brigade Commander
The President and wife of Brigade Commander, Hajiya Amina, decorated the Commander, Guards Brigade from the rank of Brigade General S. Yusuf to the rank of Major General S. Yusuf at the State House in Abuja.
The ceremony was also attended by Chief of Army Staff, Lt. T.Y. Burutai; Provost Marshal, Major General, Ayuba T. Hamman; Chief of Staff, Malam Abba Kyari; Chief of Defence, General Abayomi Olonisakin and Senator Abu Ibrahim.
VP Osinbajo Visits Yola
The Vice President arrived Yola, Adamawa State on behalf of the President based on reports of violence in the Numan and Mubi areas of the state.
He was received by Governor of Adamawa State, Bindow Jibrilla and had a meeting with him, Lamido Adamawa and various Chiefs.
The Vice President offered his condolences to victims and the families suffering the effects of the violence and assured them of the government's commitment to ending terror in the state.
In his words, "As leaders, our duty is to lead the people towards prosperity and development. That is the leadership we must provide. If we don't provide that, then we have lost our rights to be leaders."