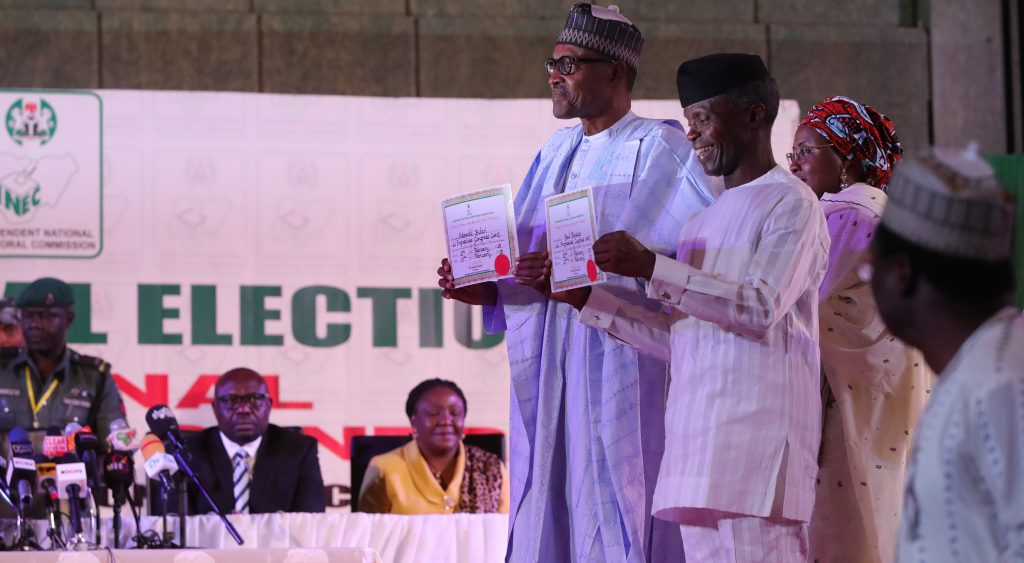 President Buhari Addresses the Party Chieftain After He was Declared President-Elect.
President Muhammadu Buhari acknowledges the crowds at the party Campaign to congratulates him after INEC Declared him as the winner of 2019 Presidential Election.
President Buhari With Staffers as He was Declared the Winner for 2019 Presidential Election.
President Muhammadu Buhari being congratulated by the SA Media and Publicity, Mr. Femi Adesina. Others were Dr. Modi, Chief of Staff Mallam Abba Kyari and SSAP SARIKI Abba immediately President was declared the winner of the 2019 President Election for another 4 years at the Residence State House Abuja.
President Buhari and Vice President Osinbajo Receives Certificate of Return from INEC.
The Independent National Electoral Commission (INEC), Professor Mahmood Yakubu, President-Elect, President Muhammadu Buhari accompanied by his wife Dr. Aisha Muhammadu Buhari and Vice President-Elect Vice President Yemi Osinbajo during the Presentation of Certificate of Return for another 4 years by the INEC at the International Conference Centre Abuja.