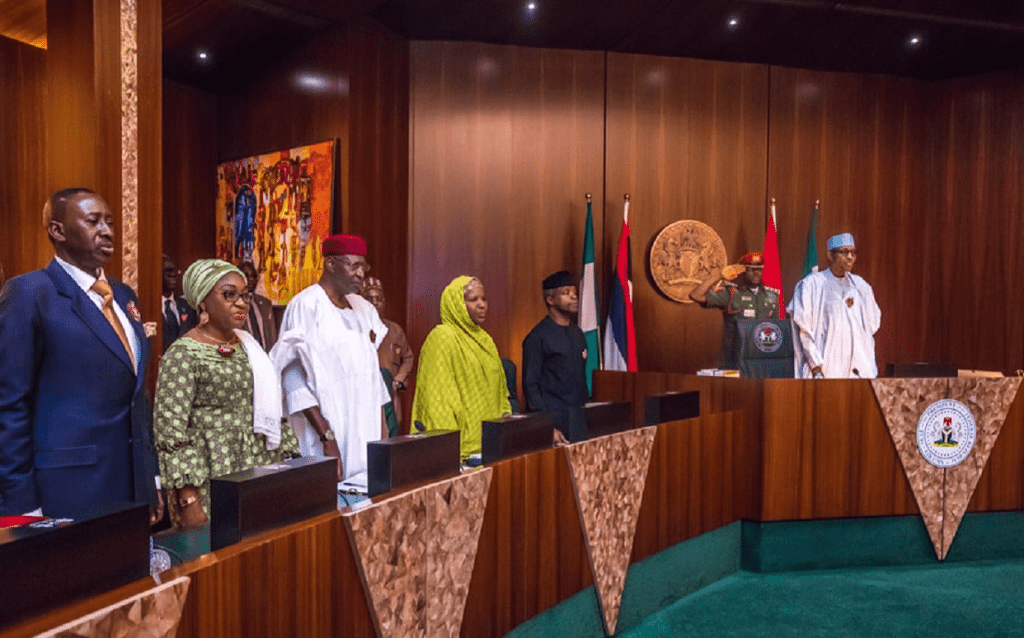 Vice President Osinbajo Formally Receives World Bank Report
The Vice President formally received a copy of the World Bank "Doing Business" report which was published on October 13, 2017.
The report states that Nigeria has moved up 24 places on ease of doing business to the 145th place. It was equally noted by the World Bank that Nigeria is now one of the top 10 rising economies in the world today.
President Buhari Presides over FEC Meeting
The President presided over the FEC meeting held today at the State House in Abuja. Details of the meeting will be provided shortly:
President Buhari Cautions Rice Smugglers
The President, at the FEC Meeting today, warned smugglers to desist from smuggling rice or faaced thorough persecution.
The matter, which was a focal point at the meeting, was also addressed  by the Minister of Agriculture, Audu Ogbeh who said that the smugglers'activities are hindering the government's efforts of enhancing rice production in the country
FG Set to Boost Maize Production
The Minister of Agriculture also added that N165 million naira will be utilized by the government towards maize production.
It is therefore expected that 265 tonnes of improved maize seeds will be derived from 30 tonnes of foundation and given to seed companies to multiply according to the Minister.
FG Aims to Control Erosion in Six States
The Federal Government has set aside funding worht N5.567 billion to control for erosion in six selected states of the Federation.
The project which is the 3rd quarter Soil Erosion Controled Accelerated Intervention will take place in Kano, Bayelsa, Sokoto, Ondo, Osun and Enugu states.
Council Approves Bilateral Agreement Between Nigeria and Canada
The Council, today, approved a bilateral air-space agreement between Nigeria and Canada.
This was addressed by the Minister of State for Aviation, Hadi Sirika who added that the agreement will provide various economic and social benefits to the Nigerian public.