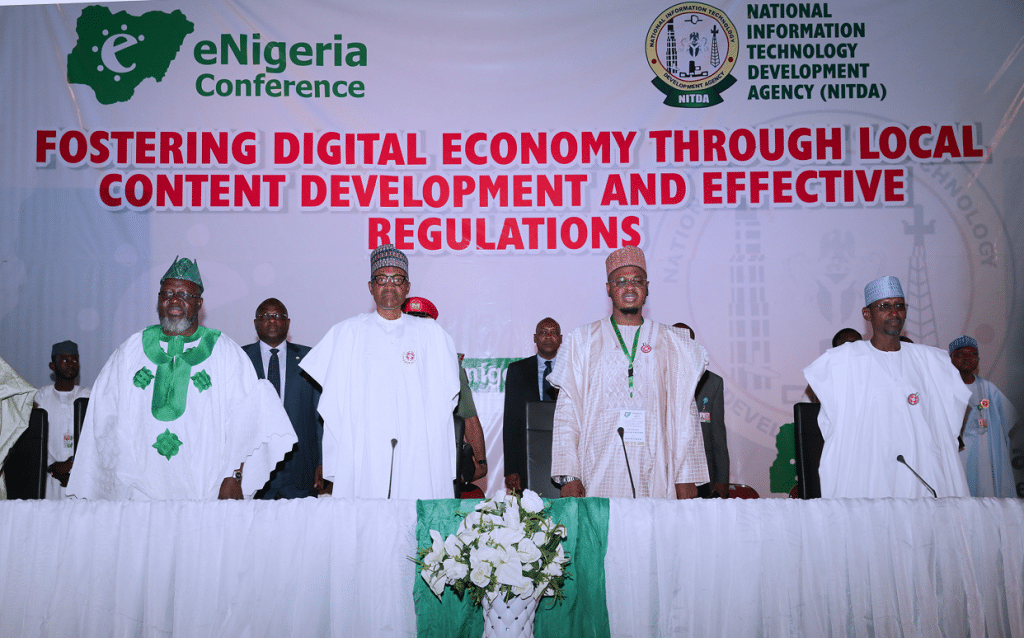 President Buhari Opens the NITDA Conference
The President attended the National Information Technology Development Agency (NITDA) 2017 e-Nigeria conference at the International Conference Centre in Abuja.
He gave his opening address to flag off the conference which is titled, "Fostering a Digital Economy through Local Content and Effective Regulations"
Dignitaries who attended the conference include Minister of Communications, Otunba Adebayo Shittu; Senator Kabiru Gaya; Director-General/CEO, National Information Technology Development Agency, (NITDA), Dr Isa Ali Pantami and Minister of FCT, Alhaji Muhammed Musa Bello.
The President encouraged all Heads of Department to show respect to lost heroes by wearing the emblem.
President Buhari Has Presented the 2018 Budget Estimate
The President presented the 2018 budget proposal to the National Assembly today at a plenary session with the House of Representatives and House of Senate.
The President, who referred to the 2018 budget as the "Budget of Consolidation", stated that the aim is to "sustain the reflationary policies of the past two budgets" and thus build on accomplishments of his recent administration.
He added, "In this regard, the key parameters and assumptions for the 2018 budget are as set out in the 2018-2020 Medium-Term Economic Framework (MTEF) and Fiscal Strategy Paper (FSP)."
According to the president, key assumptions include:
Benchmark oil price of US$45

Daily oil production of 2.3 million barrels

Exchange rate of N305/US$ for 2018

Real GDP growth rate of 3.5%

Inflation rate of 12.4%
The president also noted that the total revenue for 2018 is estimated to be 30% higher than 2017 total revenue at 6.607 trillion naira.
The Senate President, Bukola Saraki, commended the president on his presentation of the 2018 budget and his effective leadership in recovering the economy.